Shop Sip N Button to order your customized painted masterpiece button. 
Customized Masterpiece Button
00001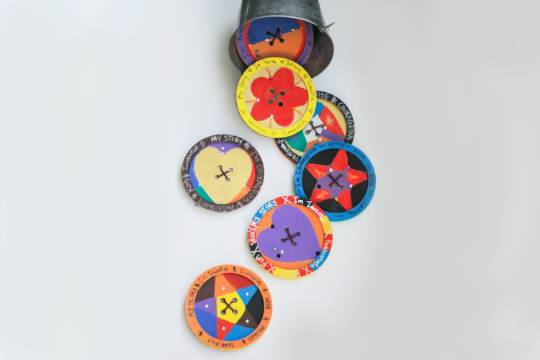 Large 5"X6" wood button
This a handmade art decor for your home or car. We customize this unique art decor by allowing you to select your drawing then we paint button with three colors selected by you and we write the positive meaning of the colors on the front or the back of the button. The button will have your name or the name of the special someone receiving the art decor.
A) Select the drawing you want painted on the button

B) Select the color to paint the drawing
C) Select the color to paint around the drawing

D) Select the color to paint the rim, the side and the back of the Button.

E) Select the name and date you want written on the button.

Drawing
Angel (0) Christmas Tree (0) Christmas Stocking (0) Ornament (0) Poodle (0) Lion (0) Dinosaur (0) Heart (0) Star (0) Flower Petal (0) Boots (0) Birthday Cake/Candle (0) Loafer Shoes (0) Snowflake (0) Music Note (0) Breast Cancer Ribbon (0) Bunny (0) Cross (0) Deer Head (0) Roses (0)
What 3 Colors Should We Use? Black-Strong, Blue-Wise, Brown-Authentic, Green-Kind, Gold-Successful, Pink-Loving, Silver-Insightful, Purple-Fascinating, Orange-Creative, Yellow-Cheerful, Red-Courageous
Where on the button do you want the writing and what name and date do you want on the button?